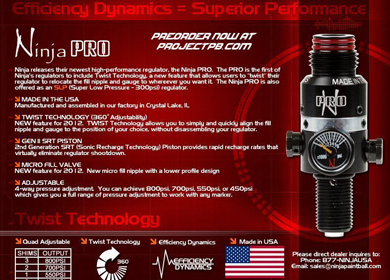 New Ninja Paintball Pro Regulator!
Ninja Paintball is officially releasing the new 2012 PRO Regulator to the public today.  The product has been debuted at Paintball Extravaganza and has been receiving a lot of positive feedback from our dealer network.  The 2012 version of our regulator now comes standard with a Belleville Spring Pack, which allows for slightly better consistency over the chronograph than what we had with our coil spring design.  The PRO Regulator also comes with Twist Technology, a new feature for Ninja regulators.  Twist Technology allows you to screw your air system into your marker and re-position the fill nipple and gauge wherever you want.  By loosening 3 set screws, you can twist the back of the bottle which will allow you to relocate the fill nipple and gauge and then you can lock the position in by tightening 3 set screws in the adjustment collar.  With this feature, you will never have to worry about your fill nipple digging into your wrist when you shoot.  Ninja is also introducing a new shorter-style fill nipple that comes standard with a hex-shaped head for easy removal.
The PRO Regulator is available as an Adjustable, SLP, or SHP regulator.  All of these features are backed by Ninja's full warranty and industry-leading customer service.  Like our other regulators, the new PRO Regulators are manufactured and assembled here in the United States, which we believe still matters.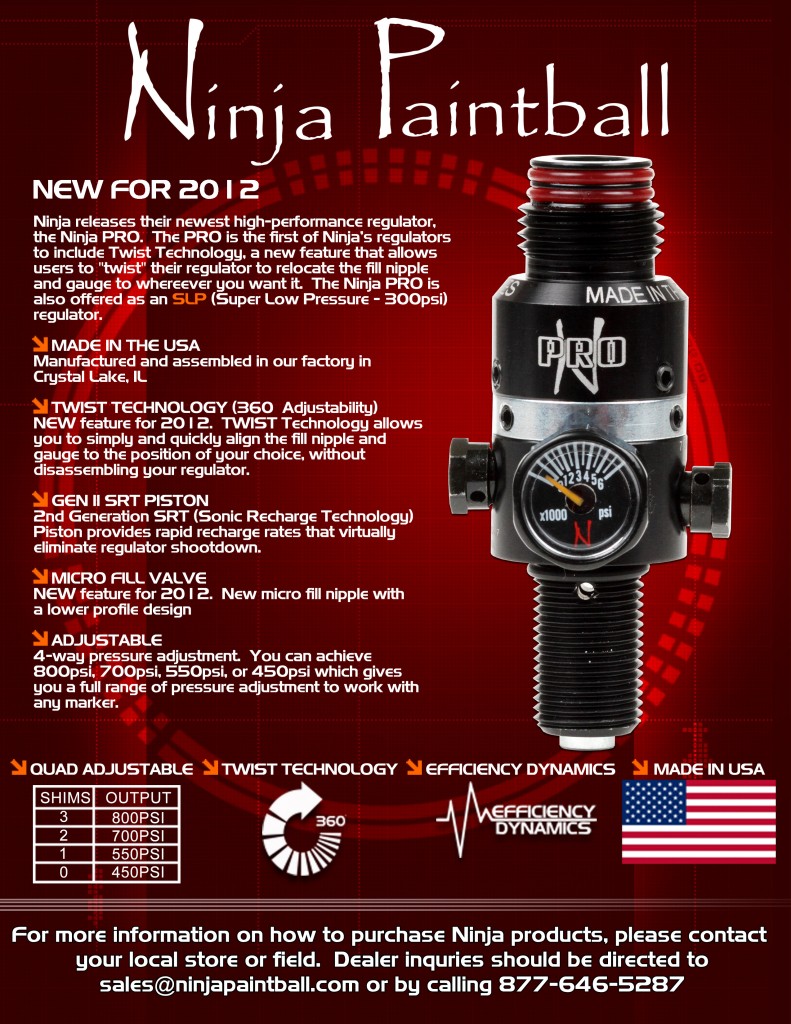 Video clip of it operating (xluben's channel):