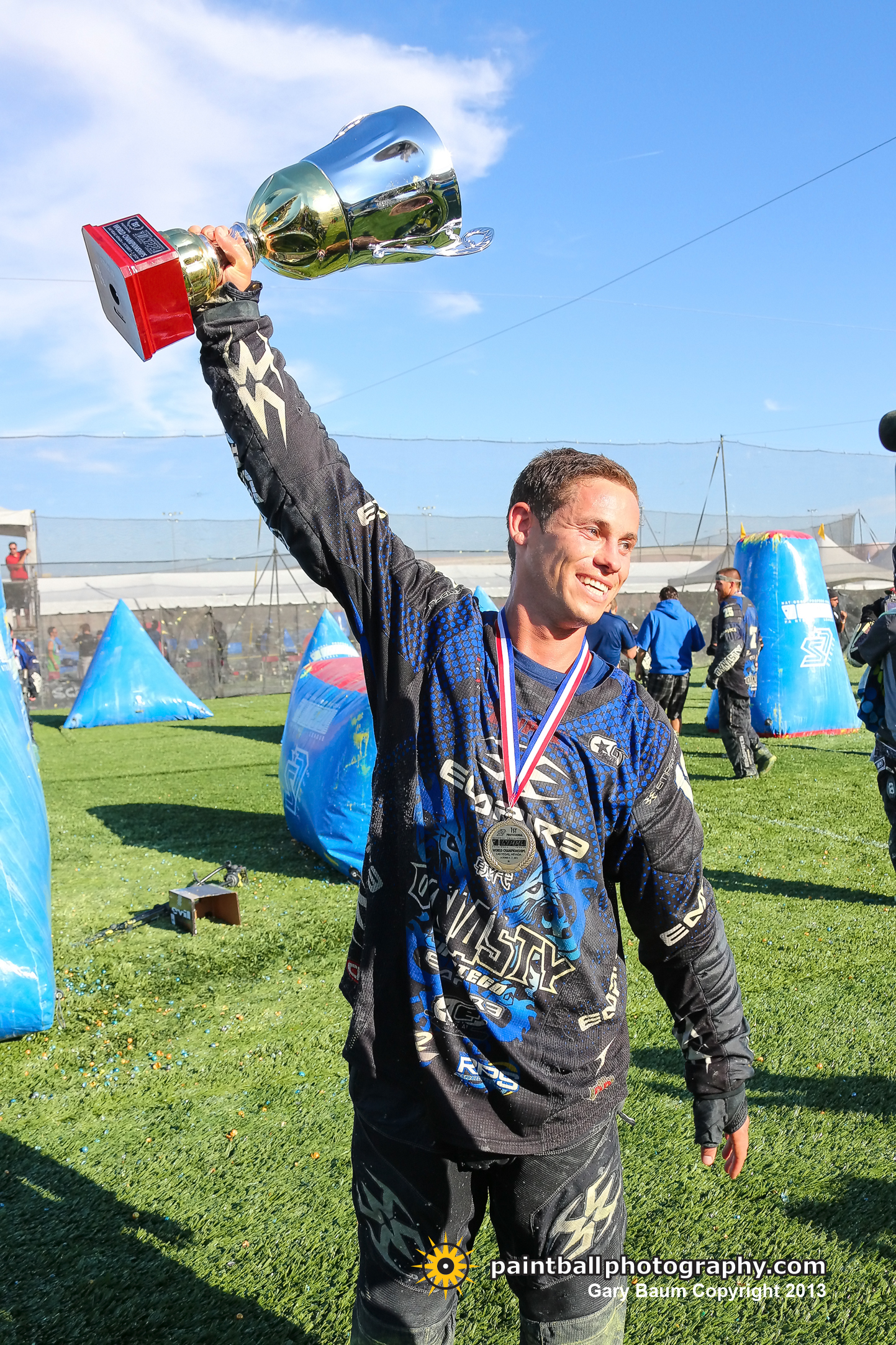 Dynasty Reloading
By now you've probably heard of the recent offseason moves made by professional paintball team San Diego Dynasty. If not, here's a quick run down of what has happened in the organization:
Pre-World Cup 2012: Long time coach Mike Hinman steps down and assumes responsibilities with rivals Los Angeles Ironmen. Dynasty appoints veteran player, but rookie coach, Rusty Glaze (formerly of Los Angeles Infamous) to head coach. Alex "Mouse" Goldman leaves the team for greener pastures in Tampa Bay.
November 4th, 2012: HK Army signs San Diego Dynasty for a 2 year long contract.
January 9th, 2013: San Diego Dynasty acquires Brandon Short from the Los Angeles Ironmen, after nine seasons of playing with the DYE squad.
January 18th, 2013: San Diego Dynasty acquires Kyle Spicka from the Los Angeles Ironmen.
When I first heard of the move by Dynasty to pick up Brandon Short, my first instinct was to criticize the move as I feel that in the last few years, Short has lost a step or two. In my opinion, he is a snake specialist who has been trying to get away from that stigma, however it is obvious that he is still not as comfortable as he needs to be in order to grab a starting spot from anybody on the team. It was my view that Dynasty picked him up specifically to add depth to their snake side attack, but I felt that even this was a flawed move due to the "technical" snake props that have virtually eliminated the effectiveness of a traditional snake. I mean, what team wants a snake player who doesnt want to be "first in the snake" any more?
However, with the addition of Kyle Spicka, and the announcement that the PSP is moving the field dimensions back to 150 feet by 120 feet, my views have drastically changed: these moves were perfect. While Brandon may not be the best insert player on the field, the change of team for him may be just what he needs to get back to winning form. And, honestly, I dont feel that they are taking a huge gamble on Kyle Spicka. While he was not dominant for the Ironmen in 2012, he did exactly what was needed for his team to win and played the tough snake position with poise and finesse by showing patience in a position that is known for its blind aggression.
Interestingly, if the PSP had not announced that the field was shrinking back to the (better) standard 150 x 120 feet, none of this would apply really. Short would still be an older snake player who doesnt want to play in the snake, and Spicka would be a middle of the road young-gun who is still looking to prove himself. Two pick-ups which would have not benefited San Diego, who was lambasted all season for their uninspiring play. But, with this change in field size the explosiveness of Short comes back into play and Spicka's ability to grind down a team from the snake becomes magnified even more due to the changed role of the prop. Instead of gun fighting from his knees, Spicka will probably see more open cross field shots from the snake than last season: a snake players dream.
Finally there is the promotion of Rusty Glaze to head coach. While Rusty has not proven himself as a head coach yet, I believe that Glaze has all the talent in the world to mold Dynasty into a winning program again. He has so-far proven that he can successfully manage stressful situations and seems to have a good idea of what Dynasty needs to do in order to become like the dominant teams of old. Of course, only time will tell, but I feel that this promotion may be the sleeper move of the year.
More important than the promotion of Glaze could be the loss of Hinman. I write this with no disrespect intended toward the legendary coach, but it was obvious that both he and the team needed to part ways.